MICROLYSIS-RNA
RAPID SAMPLE LYSIS & DIRECT TO RT-qPCR!
Obtain RNA from samples in a ready to use format - Simple, Effective, Efficient.
MicroLYSIS RNA is a powerful reagent for use in COVID-19 testing by releasing RT-qPCR ready RNA from a range of samples that include:
Dry Swabs
Saliva
Viral Transport Medium
The resulting lysate is in a ready to use format for downstream RT-qPCR testing.
In-house sensitivity testing
Below we can see results of in house sensitivity testing of MicroLYSIS RNA. The results are for
concentrations of 22, 11, 6 and 3 copies/μl.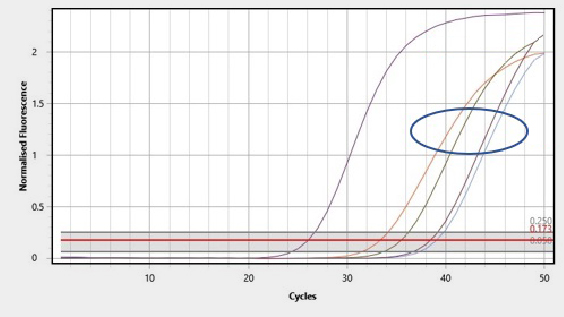 KEY
Positive Control

Samples: 21.8, 10.9, 5.74 & 2.73 copies/μl
Speak with our UK distributor; Clent Life Science about any of the Microzone range:
Protocol
Documents
Distributors
Swabs: Simply add the swab to MicroLYSIS RNA agitate the swab for 20 seconds.
Saliva or VTW: Add equal volumes  eg 100µl of patient sample (Viral transport medium or saliva) to 100µl of MicroLYSIS RNA.
Vortex
Incubate for 5′ at room temperature
Incubate for 10′ at 95⁰C
Sample ready to be added to RT-qPCR
Portugal: LabClinics, Barcelona
Spain: LabClinics, Barcelona
UK: Clent Life Science, Stourbridge
The Gel Company, San Franscisco