MICROLYSIS-RNA
RAPID SAMPLE LYSIS & DIRECT TO RT-qPCR!
One tube, patient sample collection, direct to PCR!

Simple : Effective : Efficient
Rapid Release of Viral RNA from Covid
RNA stable in buffer for extended time period.
Simple workflow – see below.
From sampling to PCR in 15 minutes.
Free from long extraction procedures..
Can be used for RT-qPCR and probe based Iso-Thermal Amplification
Saves time and money.
Can be used in almost any location – labs, car parks, airports, sporting venues or in a field.
Quick – less hanging around.
MicroLYSIS RNA is a powerful system for collecting COVID and other Viral RNA and DNA samples and rapidly process the sample to obtain PCR results. 
Using MicroLYSIS RNA allows the user to skip long winded, expensive, extraction protocols and move straight to RT-qPCR or qPCR. Our buffer releases viral nucleic acids. The released RNA is stable within our buffer for extended periods at room temperature and at 4°C. Furthermore, as we don't use filter columns or magnetic beads to extract, then there is no loss of sample. For this reason, and coupled with our experience in creating buffer that assist PCR, MicroLYSIS RNA demonstrates comparable sensitivity results to extraction. The difference being the cost and speed of going from taking a sample, to performing the RT-qPCR to getting a result.
MicroLYSIS RNA has been used with the following sample types:
Dry Swabs
Saliva
Viral Transport Medium 
The workflow for MicroLYSIS RNA is rapid and simple as can be seen below:
Protocol
Documents
Distributors
Download MicroLYSIS RNA Protocol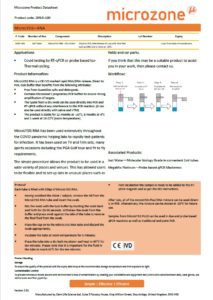 Portugal: LabClinics, Barcelona
Spain: LabClinics, Barcelona
UK: Clent Life Science, Stourbridge
The Gel Company, San Franscisco